Workers' Compensation Death Benefits in New York
Workers' Comp Death Benefits for Surviving Family Members
No personal loss is as serious and life changing as the death of a close family member. This is especially true for surviving relatives who depended on that person for financial support.
If a worker loses his or her life as a result of a work-related injury or illness, the New York Workers' Compensation Law provides the worker's surviving relatives with financial support. To learn more about workers' compensation death benefits, and whether you may be eligible to file a claim, reach out to our team at Schotter Millican. For years, our attorneys have been representing clients in Brooklyn, Manhattan, Queens, and communities throughout New York City. Our workers' compensation attorneys have a long history of supporting injured workers and helping them secure the rightful benefits they were owed.
On This Page:
Contact Schotter Millican online or call (718) 550-0610 for a free case review with one of our New York City death benefits lawyers.
Who Is Eligible for Workers' Compensation Death Benefits in New York?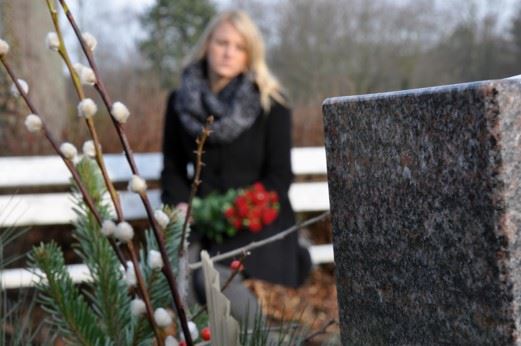 The New York Workers' Compensation Law outlines who may receive death benefits through workers' compensation after the loss of a loved one due to a workplace accident or job-related injury or illness.
Under the state's workers' compensation laws, the following people may file a claim for death benefits and receive compensation for the death of a loved one at work:
The spouse of the deceased
Children of the deceased who were under the age of 18 at the time of death
Children of any age who were totally blind or physically disabled at the time of death and whose disablement is total and permanent
Grandchildren and siblings of the deceased who were under the age of 18 and wholly or partially dependent on the deceased for support at the time of death
Parents and grandparents of the deceased who were wholly or partially dependent on the deceased for support at the time of death
Children of the deceased, dependent grandchildren, and dependent siblings of the deceased under the age of 23 who are enrolled and attending any accredited educational institution full-time, when the death occurred on or after January 1, 1978
When Does Workers' Comp Cover Death?
For an employee death to be "compensable," meaning it qualifies eligible individuals for workers' compensation death benefits, the death must be work-related. Fatal on-the-job accidents, as well as occupational exposure, illness, and injury generally all qualify for workers' compensation death benefits. Essentially, if your loved one would have been able to file for workers' compensation benefits due to his or her injuries or illness had he or she lived, and you are an eligible relative of the deceased, you likely have grounds to file a claim.
If you are unsure whether you are eligible to file for your loved one's death at work, call our New York City death benefits attorneys at Schotter Millican.
Navigating the waters after the death of an employee can be challenging. We can answer your questions and provide the information you need to move forward with your case during a no-cost, no-obligation consultation.
What Are Death Benefits and How Much Does Workers' Comp Pay for Death?
New York workers' compensation death benefits entitle the surviving relative(s) to:
For surviving dependents: weekly workers' compensation payments at the same rate the deceased would have received had he or she lived
For surviving parents where there are no surviving dependents: $50,000.00
For all eligible claimants: coverage of funeral expenses up to $6,000.00 in New York City and up to $5,000.00 outside New York City
At Schotter Millican, we understand how difficult it can be to get back on your feet after the tragic and unexpected loss of a loved one. In addition to the emotional distress and trauma you have endured, you may be facing significant financial hardships. Our attorneys work tirelessly to maximize our clients' recoveries; our goal is to recover every penny you are lawfully owed so that you can navigate the healing process.
Providing Compassionate & Personalized Legal Guidance
Navigating the intricacies of New York's workers' compensation system in the aftermath of your spouse, parent, or loved one's death can be a source of added worry and stress at a time in your life when that is the last thing you need—but it doesn't have to be. With the help of an experienced and skilled lawyer, the process of filing a claim and recovering benefits could be a lot easier.
It should be noted that a family member's work-related death should be reported to the employer within 30 days after the occurrence. It should be further noted that while the spouse and the children may file a single claim collectively, each dependent grandchild, brother, sister, parent, or grandparent must file a separate claim.
Time is of the essence in these cases; it is important that you act quickly. When you reach out to Schotter Millican, we will immediately begin putting together your claim and seeking maximum compensation on your behalf. Our multilingual team can assist you in English, Spanish, and Polish.
Need help pursuing death compensation on behalf of a loved one? Call Schotter Millican at (718) 550-0610 or submit a free online case evaluation form today to begin pursuing workman's comp death benefits.
What Makes Schotter Millican Different?
We're Deeply Committed to Helping You Find Justice
We'll Be Your Resource

Workers' Compensation can be confusing, but we're here to make sure you have everything you need.

When Others Quit, We Persist

We'll push farther for our clients - when other firms may throw in the towel, we'll dig in deeper.

Activism Backed With Heart

We have been involved in worker activism for decades, and we care deeply about you and your case.

We're Used to Winning

Our attorneys have a long history of large appellate wins, so you can feel confident in our experience.

Videographers Sent to Every IME

We send a videographer to EVERY one of your independent medical examinations (IME) to protect your rights.

We Take Complex Cases

We're not afraid of a challenge, and we'll use our experience to win even the most complicated cases.