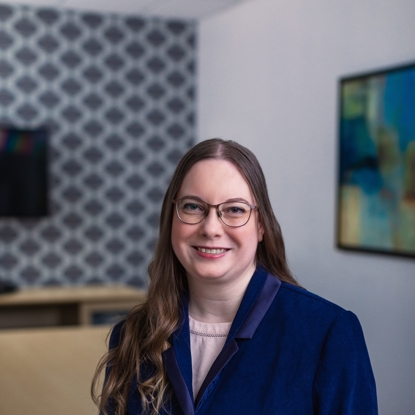 Amy Millican
Managing Partner
Bio
Amy has been practicing law since 2014, and has been handling Workers' Compensation cases since 2017. Her first career was in theatre management in the Washington DC area. Her experience working behind the scenes in live theatre taught her that even non-profit organizations can mistreat their employees, often under the guise of demanding personal sacrifices in the service of "the art."
Amy moved to New York City in 2010 to attend law school, with an eye toward entertainment law. However, when it became clear to her that most careers in entertainment law involve enforcing intellectual property rights against individual artists, Amy changed her focus. An employment discrimination course convinced Amy that her calling was in workers' rights.
During law school, Amy completed internships at two public sector labor unions and the Office of Temporary and Disability Assistance, in addition to extensive coursework in labor and employment law. Amy was also active in several student organizations, including Law Students for Reproductive Justice, National Lawyers' Guild, and the ACLU. In her spare time, Amy participated in demonstrations for women's rights.
Since her admission to practice law in New York State, Amy has helped workers on a myriad of cases, including the following types:
Wage and hour (minimum wage, overtime, and other payroll violations)
Employment discrimination, for individual workers and groups of co-workers
Enforcement of labor union contracts
For the last three years, Amy has helped injured workers in all types of claims under the jurisdiction of the worker's compensation law:
Accidents
Occupational disease, such as orthopedic and respiratory conditions that develop over repetitive stress or exposure
Conditions caused by world trade center clean up work
Mental stress claims
Hearing loss
Workers' compensation discrimination, such as an employee who has been fired because of filing a workers' compensation claim
Paid family leave
Education
Public elementary through high school in Maryland
B.S., B.A. University of Maryland, 2004
J.D. Brooklyn law school, 2013
Admissions
New York State courts
S.D.N.Y.
E.D.N.Y.
Memberships
Injured Workers' Bar Association 
Workers' Injury Law & Advocacy Group
National Lawyers' Guild, New York chapter, Labor & Employment Committee
National Employment Lawyers Association, New York chapter